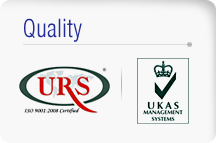 FAQ
We've organized information in response to questions frequently asked by our customers. Information shown here, as well as through links to other pages throughout our website, makes it easy to take the guess work out of purchasing gas handling systems and gas handling equipments from EXCEL Gas.
Can't find the answer to your question?
Simply contact us online or call our Solutions Center at +91 22 27784430-35
How do I find how much volume of compressed gas is in a gas cylinder?
Using the Ideal Gas Law (PV=nRT) as the starting point, it is fairly simple to calculate the cylinder content. An example of this calculation is given:
Volume of Gas in Cylinder
To find the volume of gas available from a compressed gas cylinder, we apply the Ideal Gas Law (PV = nRT). In a high-pressure cylinder, the volume will be affected by the content's compressibility factor Z (PV = ZnRT). For example, an AL cylinder of pure helium may contain 134 cu. ft. of gas while the same cylinder of pure air may contain 144 cu. ft. under the same conditions. For these practical calculations, however, we assume ideal gas behavior for simplicity.
The Ideal Gas Law PV = nRT
Where :
P is pressure
V is volume
n is the number of moles
R is the gas constant
T is the absolute temperature
When the temperature is kept constant, we can derive the equation
P (1) x V (1) = P (2) x V (2)
Where :
P (1) is the pressure of the compressed gas in the cylinder (psi)
V (1) is the internal volume of the cylinder, often referred to as water volume (liter)*
P (2) is the atmospheric pressure (1 atm - 14.7 psi)
V (2) is the volume of gas at pressure P (2) (liter)
For example, an AL sized cylinder is filled with nitrogen at 2000 psi. What is the gas volume of nitrogen from the cylinder?
P (1) is 2000 psi
V (1) is the internal volume of AL cylinder 29.5 liter*
P (2) is 14.7 psi
V (2) is the unknown volume of gas
Solving the equation above for V (2) gives:
V (2) = [p (1) x V (1)]/P (2) = (2000 psi x 29.5 liters)/14.7 psi = 4013 liters (approximately 140 cu. ft.)
What is a flam-ox gas mixture?
A flam-ox gas mixture is one that contains a flammable component such as methane and an oxidizer component such as air. Depending on the concentrations involved, there may be pressure restrictions placed on the mixture so that an explosion would be contained by the gas cylinder.